Status update
MiniMed 770G to
MiniMed 780G
software update
The MiniMed 770G pump software can be updated wirelessly to the new MiniMed 780G software with a compatible smartphone via Bluetooth. Terms and Conditions apply (see below) .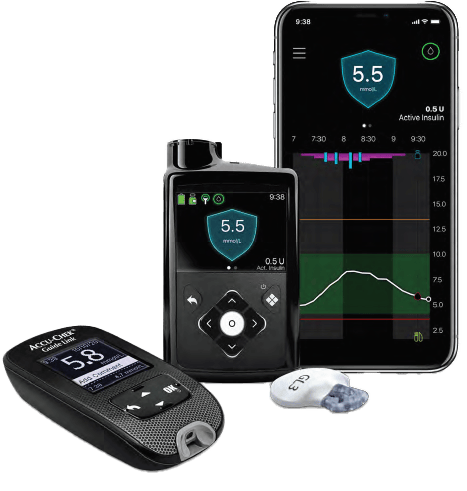 Frequently asked questions
A user can use any compatible phone – so a parent, friend or family member device if compatible. It is only required for the duration of the 2 hour upgrade process.
Yes, the user will need to have direction on the Auto-Basal target, and whether Auto-Corrections should be switched on or off. These are new clinical settings in MiniMed™ 780G.
These users will be moved to Phase 3 where face to face support is likely to be required.
Questions?
If you have any questions, please request a call to our team. 
Terms and Conditions
All MiniMed 770G customers are eligible for the 780G software update free of charge at any point during the 770G warranty period.
Please note that the software upgrade primarily relates to the functionality while using CGM. The pump-only upgrade provides a new icon menu system with no functionality changes. If you are not currently using CGM, please speak with your Healthcare Professional before commencing any CGM therapy.
You will require consent from your Healthcare Professional in order to access this upgrade (which includes determining the clinical settings) when starting MiniMed 780G with Smartguard™. Further details will follow including a 780G Order Form for completion.
Warranty dates do not reset. The warranty date of an insulin pump upgraded with the software will remain the same as the warranty date of the initial pump purchased.
Terms and conditions are subject to change at any time and without notice.
ALWAYS FOLLOW THE DIRECTIONS FOR USE.
The MiniMed 780G insulin pump is indicated for use by patients age 7-80 years with Type 1 diabetes, whose total daily dose of insulin is 8 units per day or more. For detailed information regarding indications, contraindications, warnings, precautions, and potential adverse effects, please consult the IFU. Always consult a Health Care Professional before making treatment decisions, and to see if this product is suitable for you.