WHAT IS CONTINUOUS GLUCOSE MONITORING?
Continuous Glucose Monitoring (CGM) technology enables you to monitor your glucose levels 24 hours a day through a sensor that sends the readings to a MiniMed® insulin pump (or your iphone – Learn about GuardianTM Connect).
If used with the MiniMed® 640G you get the intelligence of SmartGuardTM to predict when you are approaching a low glucose level 30 minutes in advance and automatically stop insulin delivery. SmartGuardTM will automatically resume insulin delivery when your glucose levels recover1.
In essence, CGM provides a more complete picture of your blood glucose levels by giving you early warnings of lows and highs that HbA1C and fingerstick testing alone cannot always identify. In fact, use of CGM has been shown to lower HbA1c levels2 and reduce the time of hypos3 .

1 HOUR IS
LOST
Every day to managing lows4

10%
Of severe lows require
medical assistance5

74%
Change their insulin
dose due to fear of lows6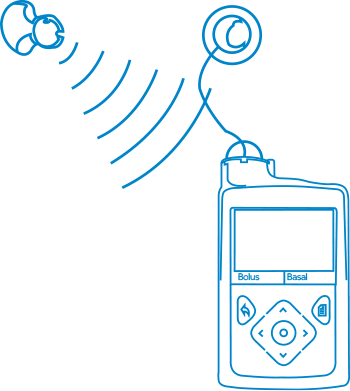 HOW DOES CONTINUOUS GLUCOSE MONITORING WORK?
The pump, when combined with the GuardianTM 2 Link transmitter and the enhanced EnliteTM glucose sensor, wirelessly transmits readings to your MiniMed® 640G. The readings are updated every five minutes and appear on the screen in colour. These regular updates can give you a clear understanding of how your glucose levels are tracking. The glucose sensor only needs to be changed every six days.
WHAT ARE THE COMPONENTS OF CONTINUOUS GLUCOSE MONITORING?
1. GuardianTM 2 Link Transmitter connects to the glucose sensor and sends glucose readings to your insulin pump.
2. The EnliteTM Glucose sensor measures glucose levels in the body.
3. The MiniMed® 640G insulin pump displays glucose readings.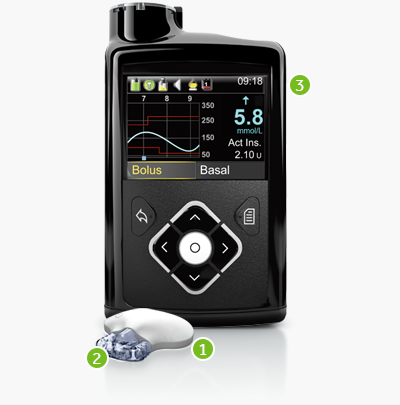 CGM WITH A MEDTRONIC PUMP - EnliteTM Sensor
The EnliteTM Glucose Sensor provides exceptional comfort and performance, including:
An innovation to the sensor adhesive patch to help reduce skin irritations
A reliable sensor-to-transmitter connection, reducing the possibility of data gaps (in the event of a lost connection, the GuardianTM 2 Link transmitter can store up to 10 hours of data.)
The EnliteTM Glucose Sensor can easily be inserted into the body. It consists of:
A one button process
Hidden needle insertion
Perpendicular insertion angle
Research shows that 85% of patients experienced no pain upon EnliteTM Sensor insertion7.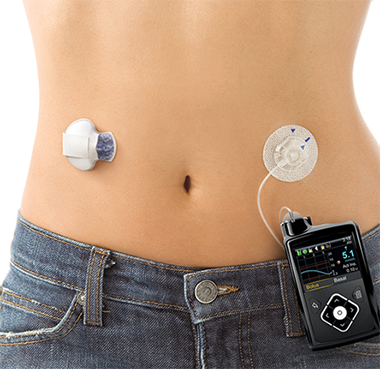 Standalone continuous glucose monitoring
What is Guardian™ Connect?
If you are not on insulin pump therapy and would prefer to remain on Multiple Daily Injections, you can still benefit from the advantages of CGM.
GuardianTM Connect is a standalone CGM tool offering visibility and remote monitoring capabilities, by connecting to your iOS device.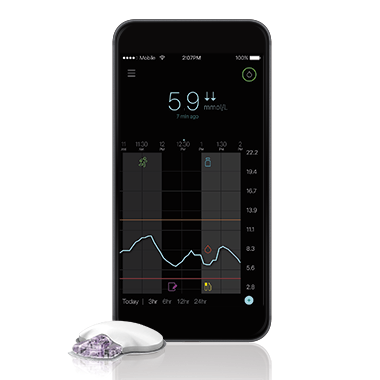 HOW CAN CONTINUOUS GLUCOSE MONITORING BENEFIT ME?
The advantages of CGM in addition to traditional finger sticks and HbA1c testing are well documented. Research has shown that:
60% of glucose lows may not be revealed with fingersticks alone2.
CGM identifies four times as many serious glucose incidents as self-monitoring of blood glucose (SMBG)2.
CGM can significantly reduce HbA1c and has been shown to reduce HbA1c levels by up to 1% when compared with fingerstick testing alone8
The anecdotal and real-life stories from patients using CGM include:
Parents who can relax and no longer feel that they have to check on their child through the night.
Sports enthusiasts and students who can concentrate on competing or taking their exams without worrying.
Busy workers who can get on with their day-to-day activities with less anxiety.
Women who are pregnant or are thinking about becoming pregnant.
See what others are saying about Continuous Glucose Monitoring

HOW MUCH DOES CONTINUOUS
GLUCOSE MONITORING COST?
Currently, the Australian Government offers CGM funding to children and young adults under the age of 21, who meet the eligibility criteria for the CGM Initiative. Learn more about the CGM Initiative to discover whether you're eligible.
For people who are not eligible for funding, Medtronic offers a number of subscription packages:
If you're new to Insulin Pump Therapy, you can get started on CGM for $750 with the CGM Protector Kit offer.
If you've already tried CGM, you can choose from our range of Sensor + Transmitter subscriptions or Sensor only subscriptions (if you already own a transmitter). Sensors range from between $50 - $70 depending on the deal purchased.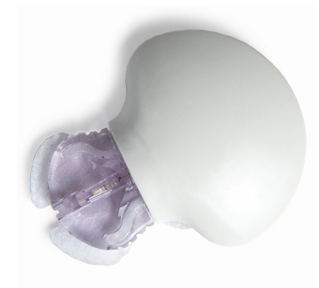 You may be interested in
CONTINUOUS GLUCOSE MONITORING DEALS
Monitor your glucose levels 24/7 with the accuracy of Enlite Sensors.
More Details
IPRO2 PROFESSIONAL CGM
Want to find a healthier You? You may be interested in iPro 2.
More Details
CGM & SENSORS FAQ
Find answers to popular questions about CGM and sensors.
More Details
The dynamic resume feature is based on certain preset criteria: sensor glucose must be 1.1 mmol/l above the preset low limit and predicted to be 2.2mmol/l above within 30 minutes AND insulin must have been suspended for at least 30 minutes.
Kaufman FR, et al. A pilot study of continuous glucose monitoring system. Diab Care. 2001:24:2030-2034
User Evaluations. Data on File, Medtronic MiniMed, Inc., Northridge, CA.
Brod, M. JME. 2012, 15 (5) 869–877
Frier, BM. The economic costs of hypoglycaemia. Br J Diabetes Vasc Dis. 2011;11:10–12.
Fidler C, Elmelund CT, Gillard S. Hypoglycemia: an overview of fear of hypoglycemia, quality-of-life, and impact on costs. J Med Econ. 2011;14(5):646–655
Internal data on file; Medtronic MiniMed®sup> , Inc
Bergenstal RM, Tamborlane WV, Ahmann A, et al. Effectiveness of Sensor-Augmented Insulin Pump Therapy in Insulin Dependant Diabetes NEJM. 2010;363(4):311-320