i-Port Advance™
If you are frequently injecting insulin or another medication, i-Port Advance™ will reduce the number of injections that puncture your skin with a needle - lessening pain, lowering anxiety and reducing inconvenience.1 Always read the Instructions for Use.

With i-Port Advance™, you can:
Take insulin doses without the pain of additional skin punctures
Avoid skipping or missing meals1
Reduce the physical and emotional barriers to injecting insulin.1,2
Injecting with i-port can be done in 3 steps:
1. Pull back on the centre, place on skin and press both round indentations, then press centre to ensure adhesion.

2. After insertion, pull to remove inserter.

3. Inject with standard pen or syringe.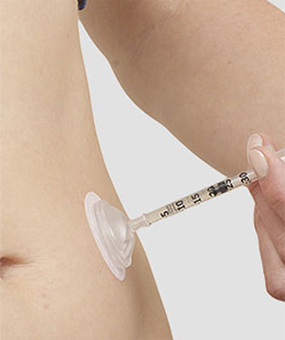 LIFE WITH SHOTS
JUST GOT EASIER
You may be interested in
i-Port Advance™ FAQ
Find answers to popular questions about i-Port Advance™.
More Details
CONTINUOUS GLUCOSE MONITORING
Monitor your glucose levels 24/7 with the accuracy of Enlite™ Sensors.
More Details
SHOP ONLINE
Shop our range of products to help you find freedom, flexibility and control.
More Details
* Survey data on file; individual results may vary.
http://www.injectionimpact.com (accessed January 2014).
Oliveria SA, Menditto LA, Yood MU, Koo YH, Wells KE, McCarthy BD. Barriers to the initiation of, and persistence with, insulin therapy. Curr Med Res Opin. 2007:23(12):3105-3112