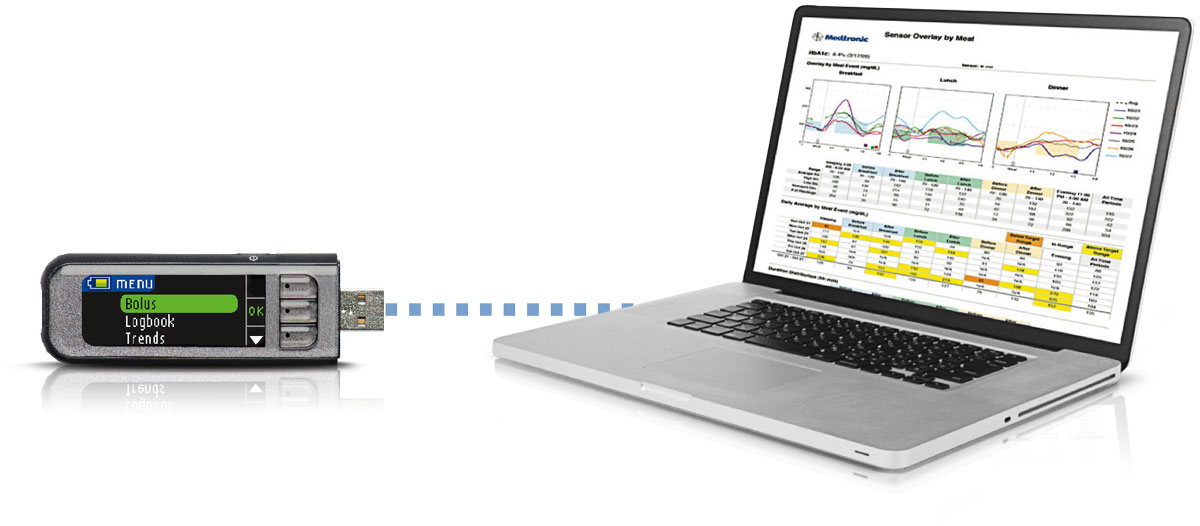 CareLink® personal software is designed for patients and is viewed online. This secure therapy management software downloads information from your pump, which it turns into reports, allowing you to track patterns of your diabetes and therapy. With the CONTOUR® NEXT LINK 2.4 meter, you can download information from your pump at home or anywhere with Internet access. Just register and log in.
CareLink® Pro software is designed for clinicians and hospitals and only available to healthcare professionals. Reports generated contain the same data from your pump as the CareLink® Personal software, but it contains more clinical details.
6 beneficial ways CareLink® Personal software can enhance your lifestyle
1. Greater control
Results have shown that people using CareLink® Personal software had improved control of HbA1c levels when compared to people using insulin pump therapy without CareLink® Personal software1. Researchers concluded that this was due to "increased contact through the internet with their diabetes care providers".
2. Easily identify problems and trends in your insulin intake
Easy to read reports can help you understand the effects of insulin, carbohydrates and exercise on your glucose levels.
3. Remote communication with your healthcare provider
Between visits, your healthcare provider may review your CareLink® Personal software information remotely to help you make more accurate therapy adjustments when needed.
4. Get the most from one piece of software
CareLink® can download a large range of common blood glucose (BG) meters. Entering these into the pump using the Bolus Wizard® allows you to download your BG readings through the pump.
5. See the full picture
By using the CGM function of your insulin pump you can see a full picture of your glucose trends, insulin usage, BG readings and exercise all in one place – without the need for logbooks.
Understanding the effects of insulin doses, eating habits, exercise routines and medication on your own personal glucose levels is key to improving your diabetes control. Information is presented in simple charts, graphs and tables to help you identify patterns and problems. This can help you and your healthcare professional work out the root cause of low and high blood glucose levels at particular times.
View a sensor daily overlay report
6. Share your progress with your clinic, with just the touch of a button
CareLink®'s innovative functionality allows your healthcare professional to see your data from their hospital computer. If your clinic has the CareLink® Pro software you can give them permission to access your account. This allows them to link from their computer to your online account and pull your downloaded data into their records, quickly and securely.
What you need to get started
Your computer operating system, web browser, software and Carelink USB/meter should meet the following requirements to ensure proper operation of CareLink Personal. If you do not utilise the below requirements, you may not be able to sign in/upload your pump.
OPERATING SYSTEMS
- Microsoft® Windows® 7 Ultimate, 32-bit and 64-bit
- Microsoft® Windows® 8 Enterprise, 32-bit and 64-bit, from the desktop only
- Microsoft® Windows® 8.1 Enterprise, 32-bit and 64-bit, from the desktop only
- Microsoft® Windows® 10 Home, 32-bit and 64-bit
Note: For Windows 7, Windows 8, Windows 8.1, and Windows 10, see also Required plug-ins and drivers for Windows users.
- Mac OS® 10.10 (Yosemite)
- Mac OS® 10.11 (El Capitan)
- Mac OS™ Sierra (10.12)
WEB BROSWERS
The system has been tested to work on the following browser versions:
Note: On Windows 8 and Windows 8.1, from the Start screen, click the Desktop tile and make sure you are viewing the desktop before you open your browser.
- On Windows only: Microsoft® Internet Explorer® 10 and 11, 32-bit and 64-bit
- Mozilla® Firefox® 45 or 52 (ESR – Extended release version)
- On Mac only: Apple® Safari® 8, 9, and 10
Note: At the time of this publication, the system does not support the Microsoft Edge browser or Google Chrome.

SOFTWARE
- Adobe® Reader® 7.0 or greater, or Mac Preview, for viewing PDFs
- Oracle® Java™ Plug-in – the system requires Java to upload data to our servers and is designed to be compatible with the latest version of Java. The system guides you to the appropriate installation steps if Java is not already installed.

CARELINK USB
- The 640G pump is compatible with the Bayer Next Link 2.4 meter, whilst the Paradigm Veo pump is compatible with the Bayer Next Link meter and white Carelink USB
- The pumps communicate via radio frequency to their respective linked meter, which then uploads the pump/cgm data onto our servers via Java software.
(Windows only) USB device drivers for meters that use a USB cable to connect to the computer for uploading data. For more information, see the instructions provided by the meter manufacturer.
Note: Some meter manufacturers may not provide a USB device driver for uploading to Windows 7, 8, 8.1, 10. If your computer is running one of these operating systems, you may need to use the manufacturer's serial cable.
- (Mac OS only) Serial port driver for uploading blood glucose meters. For details, see Setup for uploading your meter on Mac.

If you experience any technical issues with the pump upload process, please call our 24 hour Helpline on 1800 777 808 for support.
View the CareLink Getting Started Guide for further information.
References:
1. Corriveau EA, Durso PJ, Kaufman ED, Skipper BJ, Laskaratos LA, Heintsman KB. Effect of Carelink, an Internet-based insulin pump monitoring system, on glycaemic control in rural and urban children with Insulin Dependant Diabetes mellitus. Pediatric Diabets. 2008;9(4, pt 2):360-366.