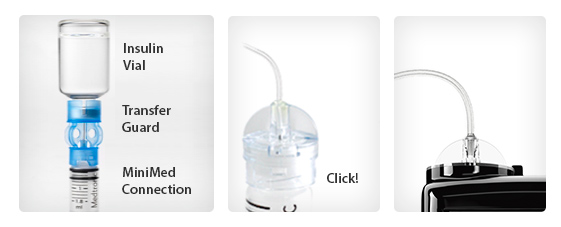 The MiniMed® reservoirs have been designed for your safety and are simple and easy to use. Learn more about reservoirs.
Innovative features include:
Fast, efficient reservoir filling and ease of handling – no assembly required, the reservoir is ready to use
Unlike luer reservoirs, there is no extra needle to handle, as it is incorporated into the TransferGuard
Secure, stable and easy reservoir filling – the TransferGuard fits neatly onto the insulin vial
MiniMedTM Reservoirs are available in 1.8 and 3ml size. If you are using a MiniMed 640G pump, you can use either reservoir size.