Diabetes is already complicated. Your therapy management shouldn't be. Regularly testing your glucose levels, calculating your insulin dose, logging your results - there's a lot to think about to maintain daily glucose control. That's why the MiniMed® 640G is designed with your convenience in mind.
See how the MiniMed® 640G has brought more convenience to Sally and Roslyn.
To help you manage your condition, the MiniMed® 640G comes with the exclusive CONTOUR® NEXT LINK 2.4 from Bayer, the only glucose meter that links to our system. This enables it to:
Wirelessly sends glucose readings to your pump
Allows for remote bolus delivery
Uploads pump data to CareLink™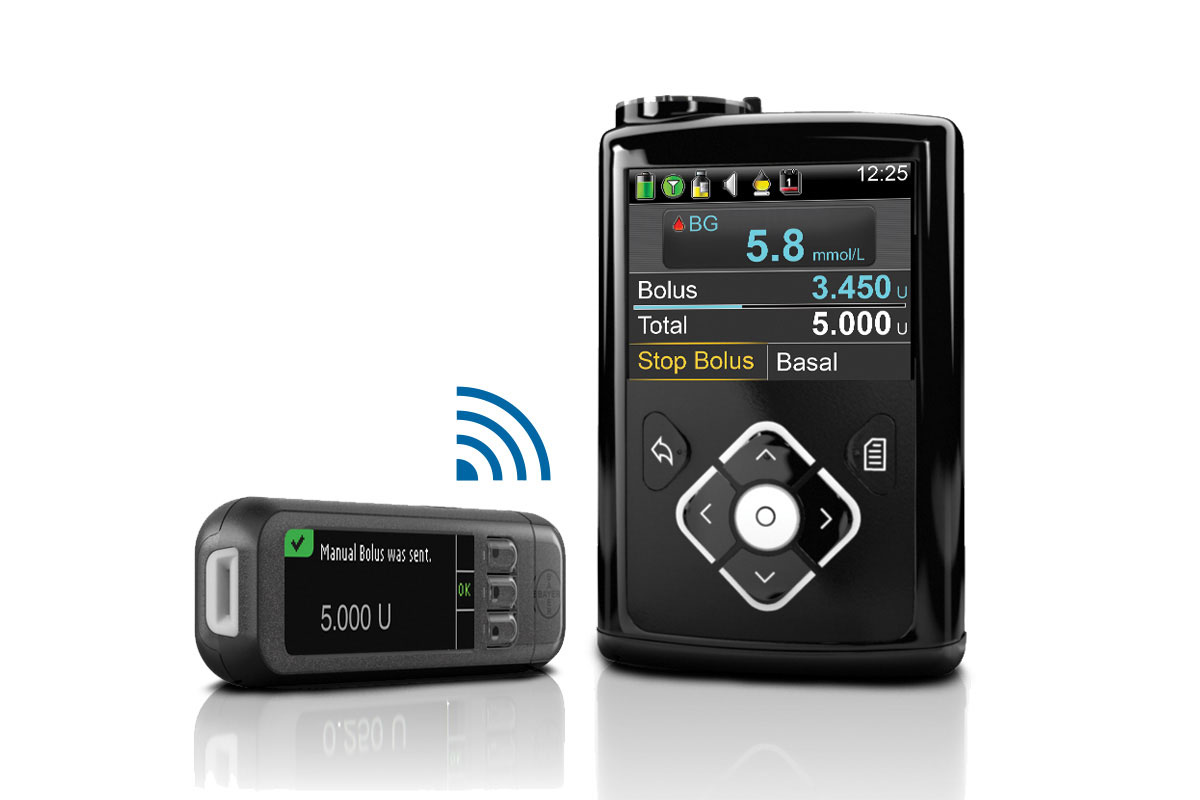 The easy-to-use CONTOUR® NEXT LINK 2.4 from Bayer gives you:
Accuracy with the CONTOUR® NEXT TEST STRIPS - the most advanced and accurate test strip technology available1
NO CODING™ TECHNOLOGY - removing the need to manually code the meter before testing, reducing miscoding errors
MULTIPULSE™ ACCURACY TECHNOLOGY - ensures accurate readings, even when blood glucose levels are low.2 Accuracy is not affected by many common interfering substances and medications3
SECOND-CHANCE SAMPLING - tells you when to apply more blood if necessary, preventing you from wasting a strip.
How else does the MiniMed® 640G put you in control?
Discreet remote bolusing - enables the meter to send quick and discreet bolus to your pump
Automatic transfer to the Bolus Wizard™ calculator - for easier dosing, the CONTOUR® NEXT LINK 2.4 meter automatically sends blood glucose readings to your insulin pump's Bolus Wizard™ calculator
The Bolus Wizard™ - calculates and recommends correct insulin doses4 automatically, so you can manage your insulin more conveniently and precisely. It can also help reduce the risk of data entry mistake.
1. Section 8 clinical study. Data on File. Bayer Healthcare, LLC.
2. Section 7 clinical study. Data on File. Bayer Healthcare, LLC.
3. See CONTOUR® NEXT LINK 2.4 package insert for list of substances and medications.
4. Calculation is based on the amount of insulin currently in the body, the amount of carbohydrates, the user's current and target blood sugar levels, their insulin-to-carb ratio and their body's sensitivity to insulin. Proper Bolus Wizard™ setup must be completed first. Users must input the number of carbohydrates they are eating and their current blood glucose value before the Bolus Wizard™ can calculate the insulin users should take.