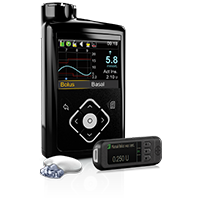 MiniMed® 640G System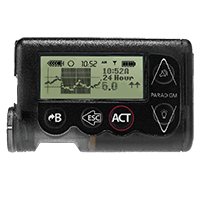 MiniMed® Paradigm™ Veo
Features
Why it's important
Product Comparison
Automatically suspends insulin
To help guard you against hypoglycaemic events.
Yes
SmartGuard™ automatically suspends insulin delivery before your sensor value reaches a preset low limit, and you don't respond to alerts.2 You can set up to 8 low thresholds per day. Insulin delivery can be suspended for between 30 mins and 2 hours.
Yes
The pump's Low Glucose Suspend feature stops insulin delivery when your sensor value reaches a preset low limit.
Make adjustments ahead of time
Yes
Predictive alerts notify you before you go high or low, so you can take action sooner. Set your alert to audio or vibrate. Both can occur simultaneously on the MiniMed 640G.
Active, ongoing insulin tracking
Assisting you to accurately calculate and prevent overlapping boluses
Yes
Active insulin from food and correction boluses3 is tracked – even during battery changes.
Customisable basal patterns
So you can meet your individual daily, weekly, or monthly needs
Yes
The pump has 8 basal patterns for increased customisation.
Yes
The pump has 3 basal patterns to choose from.
Temporary basal pattern preset
So you can immediately create a short-term change to your basal insulin
So you can experience greater convenience and customisation
Yes
The pump's bolus delivery speed is adjustable: 1.5 U/min (standard speed) or 15 U/min (quick speed).
No
The bolus delivery speed is fixed at 1.5 U/min. The pump has no present bolus values.
Linked blood glucose meter
Save time, avoid coding errors and get more reliable glucose readings
Yes
The CONTOUR® NEXT LINK 2.4 is the only available meter designed to communicate wirelessly with the MiniMed® 640G.
Yes
The CONTOUR® LINK connects wirelessly with the Paradigm Veo and automatically sends your blood glucose results4.
Remote bolusing from meter
Easily and discreetly deliver the insulin you need without taking out your pump
Yes
The pump can deliver a manual or pre-set remote bolus from the meter. This feature can be used to cover frequently eaten meals or snacks.
Insulin pump with paired CGM
Allowing you to make more informed decisions about your insulin needs quickly and easily.
Yes
Fully integrated MiniMed®pump and sensor systems help you make informed decisions through a more complete picture of your glucose levels and trends.5,6 Both pumps are compatible with the Enlite™ Glucose Sensor. The MiniMed 640G is compatible with the GuardianTM 2 Link transmitter. The Paradigm Veo is compatible with the MiniLinkTM transmitter.
Easy-to-use pump interface
Avoid errors and enjoy carrying out your routine tasks with ease.
Yes
Enhanced user interface for fewer button pushes, back button and navigation by alerts. Larger, clearer display with a 4cm (wide) x 3cm (high) screen.
Yes
Simple user-friendly menus, back button and navigation by alerts. 4.5cm (wide) x 1.8cm (high) screen.
Set a bolus quickly without a lot of mental gymnastics
Yes
Bolus Wizard® calculator simplifies calculating mealtime insulin or corrections and helps you avoid insulin stacking from previous boluses.7
Customisable high and low alerts
Meet your diabetes management needs throughout the day
Yes
The pump lets you customise up to eight different glucose target ranges, so you can receive alerts that prompt you to act.
Easy sensor insertion with short, thin needle
Easily insert your sensor and wear it without discomfort.
Yes
The sensor offers a comfortable and easy one-button insertion with a small, fully concealed needle.8,9
Colour screen with automatic light adjustment
So you can read easily - during the day or night, indoors or outdoors
Yes
The pump has full colour display, of 65,000 colours. The Brightness Level can be adjusted over a range of 1-5.
No
The pump display is monochrome (black only) with non-adjustable brightness.
Allowing you to enjoy your pump in both wet and dry situations
Yes
The pump has a rating of IPX8 and is waterproof to depth of 3.6 meters for 24 hours10
Limited
The pump has a rating of IPX7 and is water-resistant to a depth of 2.4 meters for up to 30 minutes10
So you can be compliant with airline regulations without losing retrospective CGM data
Restored glucose readings
So your readings are saved even if transmissions from your sensor are delayed
Yes
The pump automatically stores 10 hours of missed glucose readings.
Yes
The pump automatically stores 40 minutes of missed glucose readings.
Diabetes Management Software
So you and your doctor have online access to your pump and glucose information and can make therapy adjustments
Yes
CareLink Personal therapy management software helps you and your doctor discover trends and patterns, so you can tailor your treatment plan. Using CareLink has been shown to help lower your A1C levels11.
Whilst using the MiniMed Paradigm Veo, insulin delivery is suspended while data is uploaded to Carelink. For uninterrupted insulin delivery, the MiniMed 640G does not suspend delivery while data is uploaded to Carelink.
Comprehensive product support from one company
So you get the help you need to succeed on pump and sensor therapy
Yes
Medtronic has over 30 years of experience in diabetes education and management, a 24-hour helpline, global assistance, Web resources and an active online social community.
You may be interested in
LIFE WITH DIABETES
Gain insight into how diabetes can be managed in your daily life.
More Details
LIFE WITH A PUMP
Find out how you can stay in control and enjoy freedom in your daily activities.
More Details
INSULIN PUMP THERAPY
Discover how insulin pump therapy can give you the control you want in life.
More Details
7 out of 10 people choose Medtronic based on total number of pump consumables sold nationally, NDSS sales data 2017
MiniMed 640G and MiniMed Paradigm Veo user guides
Manually injected insulin will not be tracked by the pump.
See CONTOUR®NEXT LINK User Guide
Bergenstal RM, Tamborlane WV, Ahmann A, et al. Effectiveness of sensor-augmented insulin-pump therapy in type 1 diabetes. N Engl J Med. 2010;363:311–320.
Battelino T, Conget I, Olsen B, et al. The use and efficacy of continuous glucose monitoring in type 1 diabetes treated with insulin pump therapy: a randomized controlled trial. Diabetologia. 2012;55:3155–3162.
WARNING: Feature does not account for manual injections by syringe or pen. If not accounted for, this can cause over delivery of insulin, which can result in hypoglycemia
U.S. Enlite Clinical Study Customer Satisfaction Survey. Data on file, Medtronic MiniMed, Inc., Northridge, CA
Enlite® Sensor Performance Clinical Appendix.
At the time of manufacture.
Corriveau EA, Durso PJ, Kaufman ED, et al. Effect of CareLink, an internet-based insulin pump monitoring system, on glycemic control in rural and urban children
with type 1 diabetes mellitus. Pediatric Diabetes. 2008;9(Part II):360–366.