Choose fewer injections with the new Medtronic i-port Advance.
Do you skip insulin injections because of pain or discomfort, at the risk of your health and expense of your lifestyle?
You're not alone. According to a survey commissioned by the American Association of Diabetes Educators, 47% of people said they were more likely to take injections regularly if there was something available to help ease the pain.1
Using i-port Advance will reduce the number of injections that puncture your skin with a needle - lessening pain, lowering anxiety and reducing inconvenience.1
With i-port Advance, you can:
Take insulin doses without the pain of additional skin punctures
Avoid skipping or missing meals1
Reduce the physical and emotional barriers to injecting insulin.1,2
How does it work?
​The i-port is applied with virtually painless* insertion, leaving a soft cannula under the skin and giving you a means to inject medications such as insulin, with fewer punctures, over three days of normal activity - including showering, swimming and exercising.
It is compatible with pens and syringes and can be used by children and adults.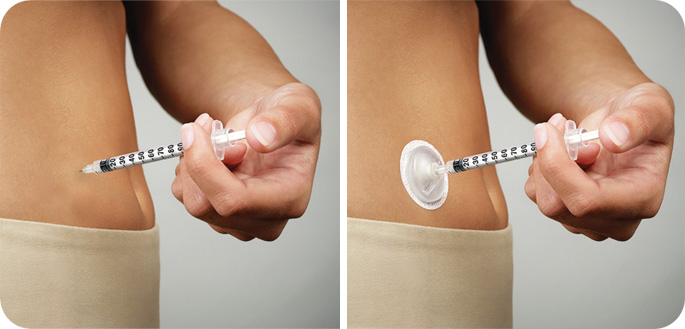 Standard vs. Injection Port
* Survey data on file; individual results may vary. 1. http://www.injectionimpact.com (accessed January 2014). 2. Oliveria SA, Menditto LA, Yood MU, Koo YH, Wells KE, McCarthy BD. Barriers to the initiation of, and persistence with, insulin therapy.

Curr Med Res Opin

. 2007:23(12):3105-3112
Is the i-port Advance right for you?
The i-port Advance is designed for anyone that needs a multiple daily dose of a subcutaneous medication - including children, adults and the elderly.
Plus, the i-port Advance isn't just for people dependent on insulin. Anyone who needs a regular injection from a syringe or pen, of medications that are administered under the skin (subcutaneous), can enjoy the relief and greater comfort provided by the i-port unit.
Choose a model.
There are 2 models of i-port available: a 6mm or 9mm cannula length.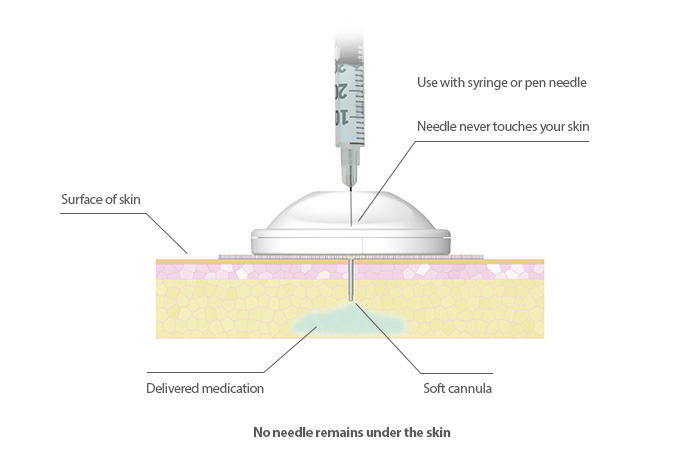 Simple to apply. Easy to use.
1. Pull back on the centre, place on skin and press both round indentations, then press center to ensure adhesion
2. After insertion, pull to remove inserter
3. Inject with standard pen or syringe.
For more detailed instructions, download the training guide.
Have Questions?
To learn more about the i-port Advance see our frequently asked questions.
Would you like a free 6 day trial pack?
Conditions apply
Where can I buy?
Purchase the i-port Advance 10 pack now for $89.95.
4 FOR 3 OFFER
Sign up to receive 4 boxes, but only pay for the price of 3. Save 25%!