WHAT IT MEANS TO ME – FUNDING THROUGH CHLOE'S EYES
Tuesday, April 4, 2017 - 16:52
I'm so so excited, like literally jumping up and down to hear that so many boys and girls in our country will be given this AMAZING opportunity. Our Government subsidising CGM is giving us greater access to a resource that helps to make living with Diabetes easier. I believe that this technology will change your life. I know that living with Diabetes is still a struggle but I think that this will create a great sense of relief for many people. I know that for many families CGM was not affordable and I am so happy now that more Australian children will be able to access this amazing technology to give them the freedom they deserve. I certainly know how much I have gained from using CGM in this last year and I can't wait to see what fun and daring things other kids like me will get up to.
I hope this will help give parents a sense of relief for their children to be able to participate in sleepovers, camps and daily school life with less worry.
I hope providing this greater access gives kids the confidence to participate in the sports they love and kick some butt at them. I know sometimes it is hard to take that leap of faith but to take full advantage of this technology we need to trust it and have faith in it. I strongly believe that this will have a positive influence on many people's lives. I am so excited about the amount of people who will feel safer, and happier if they give CGM a go. I feel truly blessed that I live in a country lucky enough to be given these sorts of opportunities. I know that diabetes will still sometimes be hard to live with but we have to acknowledge the blessings we get and look on the bright side of life … I always like to remember that things could be a lot worse…….so please go celebrate one less worry that diabetes will give you!
X0XO
Chloe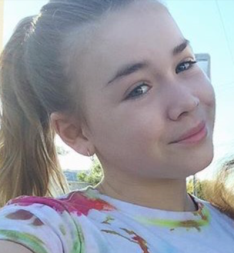 Chloe
Medtronic Diabetes Australia Ambassador
Living With Type 1 Diabetes
An active 13 year old, Chloe likes to enjoy a variety of sports from swimming to rock climbing. With her pump by her side she is able to live life with less worry and more fun, be sure to read Chloe's blogs on how she gets back to the real world.

This patient testimonial relates to an account of an individual's response to treatment. The account is genuine, typical and documented. The views and opinions expressed are those of the patient or author and not representative of Medtronic or of any third parties referenced. The response other persons have to treatment could be different. Please consult with you healthcare professional for information on whether the treatment is appropriate for you.
*The information provided in this blog is an individual account specific to the writers experience in the management of their own diabetes. Before considering any changes to your diabetes management you must consult with your healthcare professional.