PREGNANCY & PUMPING - A MUM WITH TYPE ONE
Sunday, September 30, 2018 - 21:00
I've been Type 1 since the age of 14 and managed my sugars relatively well with injections until I became pregnant. Changing hormones and a continual need for more insulin can make good diabetes management a full-time job. My first pregnancy, aged 36, began perfectly with good HBA1c. I had to keep tight control which resulted in lots more hypos followed by blood sugar highs from over-treating hypos. My HBA1c stayed relatively good but my sugars frequently seesawed and my fingers felt like sieves from all the finger pricking. It wasn't until my third trimester that my blood pressure soared, and I was diagnosed with preeclampsia. In hospital my insulin was managed by multiple lovely nurses with a hard-to-follow log book. Needless to say, my sugars were all over the place and I felt completely out of control knowing this really wasn't ideal for the baby. I had an emergency C section at 34 weeks. Our newborn daughter Ellie (now three years) was rushed off for CPAP and then taken to NICU. Her own blood sugars took a couple of days to normalise and she was tube fed until she was strong enough to be breastfed. Ellie was in the special care unit for 12 days and I was only with her for short feeds during the day before pumping, then we'd have to spend our nights apart which I found emotionally quite distressing.
My second pregnancy in comparison (age 39) got off to a rocky start with a high HBA1C of 8.4. It was a planned pregnancy, but I was time poor with a toddler and found it hard to manage my diabetes as closely as I should have. My GP referred me to an Obstetric Physician. The priority was to get my sugars under control as quickly as possible, so she referred me to a diabetes educator, Amanda Bartlett, who specialises in pumps and continuous glucose monitoring (CGM). I realised I needed guidance and help during my pregnancy for my baby to have the best possible outcome, so I went onto a continuous blood glucose monitor to collect in depth data about my sugars. After a series of pump education sessions, I went onto a MiniMed® 640G pump at 14 weeks, with a CGM. This gave my diabetes educator and I huge insights into how my sugars were behaving, especially overnight. Before the transition I'd lost hypo sensitivity and no longer woke during the night to hypos.
The pump was set to alert me before going into a hypo and before going too high, so I was in good range the whole time. Although the alarms can be annoying, they made me very present when it came to managing my sugars. We then activated the hypo stop on the pump using Smart Guard technology so that it automatically stopped the supply of insulin before I went hypo. This feature has been a godsend and keeps me out of trouble, which is great peace of mind now that I have a three-year-old and a nine-month-old to look after.
It's like having a personal diabetes care team by my side the whole time and after a few weeks of getting my doses right my HBA1C went from the mid 8's down to 6, which is amazing considering I've had type 1 diabetes for 26 years.
My control couldn't have been as tight without the pump and CGM. Thanks to the pump and CGM and my amazing HBAC1 in the last trimester of the pregnancy, our baby girl Lola was born without complications and her own blood sugars stabilised within a matter of a few hours so instead of being in the NICU room for a few days, she was with me from the first night in my hospital room and I got the initial skin on skin bonding time with her that I'd always wanted and she was breastfed within 15 minutes of being born. Such a huge difference to my first pregnancy.
My amazing pump educator, Amanda Bartlett, gave me great confidence in using the pump and the alarms triggered by CGM meant no matter how busy/distracted I was, I always knew where I was with my sugars. It gave me great peace of mind that I was giving our baby the best outcome for a healthy delivery and life.
In the end, I think my pregnancy was very successful, thanks to CGM. It ensured I always stayed in range.
CGM is fantastic and can only improve HBA1Cs and tighten control, which means happier and healthier babies and adults. Having had periods of good and poor control throughout my diabetes, I've experienced tiredness and mood swings. It feels so good to have a pump and to feel I'm in such great health now. I have so much more energy. Quality of life is so important, and I want to be at my best, especially for my family.
---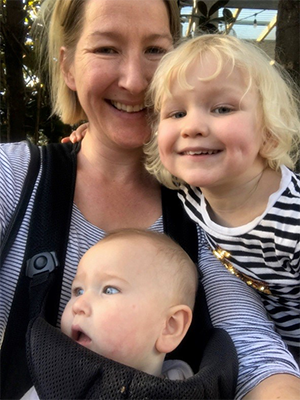 Stephanie
Living With Type 1 Diabetes
Diagnosed with Type 1 diabetes at the age of 14, Stephanie managed her diabetes well with injections until she became pregnant. Now using an insulin pump and CGM, Stephanie feels healthy and energetic.
This patient testimonial relates to an account of an individual's response to treatment. The account is genuine, typical and documented. The views and opinions expressed are those of the patient or author and not representative of Medtronic or of any third parties referenced. The response other persons have to treatment could be different. Please consult with you healthcare professional for information on whether the treatment is appropriate for you.*The information provided in this blog is an individual account specific to the writers experience in the management of their own diabetes. Before considering any changes to your diabetes management you must consult with your healthcare professional.