Me & My Pump – Going Back to school
Monday, March 6, 2017 - 22:17
Last year I started high school; it was such a big change from primary school. Don't get me wrong, I love it but it's so busy and you have to be very independent, very quickly. One thing that made my life simpler was my Medtronic Insulin pump I can't even imagine my life without it. I can't imagine having to sneak off to the bathroom at lunch a few times a day to have to inject insulin for my meals ... gosh, who knows what gossip I would miss whilst I was gone.
Most times people around me don't even notice me get out my pump to Bolus™ my meals. I also love that on days when I have PE that I can adjust my insulin using a temp Bolus™ or even just take the pump off for the duration to prevent my hypos.
This is my third Medtronic insulin pump and by far my favourite because we have also started using CGM with it full time. It means I don't have to do routine testing at school. My CGM monitors my levels for me and alerts me if I'm out of range Which helps me stay on top of my bloods. I'm so grateful to have this technology. It helps me feel so much more in control of diabetes with the CGM monitor looking out for me I can spend less time thinking about diabetes and more time concentrating on my school work and making great high school memories with my friends.

See the video below of Chloe's story:
---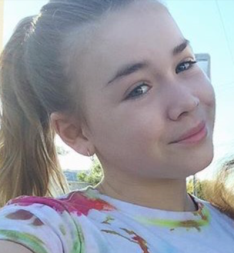 Chloe
Medtronic Diabetes Australia Ambassador
Living With Type 1 Diabetes
An active 13 year old, Chloe likes to enjoy a variety of sports from swimming to rock climbing. With her pump by her side she is able to live life with less worry and more fun, be sure to read Chloe's blogs on how she gets back to the real world.

This patient testimonial relates to an account of an individual's response to treatment. The account is genuine, typical and documented. The views and opinions expressed are those of the patient or author and not representative of Medtronic or of any third parties referenced. The response other persons have to treatment could be different. Please consult with you healthcare professional for information on whether the treatment is appropriate for you.
*The information provided in this blog is an individual account specific to the writers experience in the management of their own diabetes. Before considering any changes to your diabetes management you must consult with your healthcare professional.