What It Means To Me - Funding From Brent's Perspective
Monday, April 3, 2017 - 16:42
It's welcoming news to see that CGM funding for those living with type 1 less than 21 years of age is being provided through the NDSS. While I no longer meet the criteria, I am excited that this technology will be accessible to a greater range of people and have high hopes of the program expanding.
I've always been a strong supporter of CGM use right back from my teenage days. The piece of mind it provided (and still does!) is unbeatable. Not only did this bring a sense of security to myself but also my family because they knew I had this valuable information presented to me that I never had access to before. To me, it's like another set of eyes.
This technology helped me that much that I am proud to say I was one of the first people in the CGM funding movement. From about 16 years old, I began a petition calling on the government to fund CGM technology on the NDSS. While this may have seemed like a small effort at the time, it meant everything to me knowing how much this technology changed people's lives and I wanted everyone to have access. I never thought I would see this day where that became a reality!
It's a fantastic first step to provide funding through the NDSS for patients under 21 because from my own personal experience, it's where CGM usage was absolute key in allowing me to be where I am today and living as close to normal life as I could. Without CGM supporting me throughout my teenage years, I couldn't imagine being a registered nurse today. It took the worry out of living with Type 1 Diabetes in day to day activities.
While funding is limited to a certain patient group which I am no longer eligible for, I believe it will eventually be expanded into adults. when children and their families get access to this technology and show the government that it works and is a life changer especially with Smart Guard technology being on offer to more and more people.
---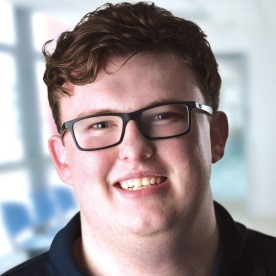 BrentRN
Medtronic Diabetes Australia Ambassador
Living With Type 1 Diabetes
Having recently completed work placement as part of becoming a registered nurse, Brent is familiar with what can be a juggling act between diabetes management and living his life. With his pump this juggling act is made easier as he is, "able to confidently manage my diabetes so I am able to have a clear focus on nursing".
This patient testimonial relates to an account of an individual's response to treatment. The account is genuine, typical and documented. The views and opinions expressed are those of the patient or author and not representative of Medtronic or of any third parties referenced. The response other persons have to treatment could be different. Please consult with you healthcare professional for information on whether the treatment is appropriate for you.*The information provided in this blog is an individual account specific to the writers experience in the management of their own diabetes. Before considering any changes to your diabetes management you must consult with your healthcare professional.