THE POWER OF PREDICTION - BARNABY'S JOURNEY
Monday, September 17, 2018 - 15:36
After finding out my pregnant sister had jumped the fence of my apartment complex to wake me up from an overnight hypo, I realised I had to do something about my diabetes management...
...that something was the Medtronic 640G insulin pump with CGM and SmartGuard® technology.
A diabetic since 14, I rode a wave of confidence: I played a season in the AFL for the Sydney Swans and went backpacking solo around the world - the whole time I was on injections and my HBA1C's were stable and hypos were rare.
When I was 25 however, I was bashed in an alcohol-fuelled gang attack and had a stroke – I was on life support for four days. After pulling through, my recovery sparked a rubbish patch in my diabetes management - I had several overnight hypos, which I came through thanks to the quick-thinking of my late wife. When I lost Angela to breast cancer, I found out just how scary rubbish diabetes control was when living on your own an hour away from your family.
After my sister risked her and her unborn child's life to wake me from a hypo, I decided I needed to shake up my diabetes management – I needed:
an insulin pump I could trust to take action if my sugars were heading low
a way of monitoring my sugar levels 24/7 that would give my family and I peace of mind
a stable lifestyle so that I could potentially attract a new partner
... then along came the 640G, and every box I needed to tick to give me a safer, more enjoyable lifestyle was taken care of.
I discovered early on that the power of predicting low sugars on the 640G was lifesaving – I woke up on my own in my apartment after only being on Medtronic CGM for 3 days and looked at my pump and saw that I had a "suspend before low" overnight, but the pump shut off my insulin supply and restarted it once my levels were safe . The 640G has been life-changing for my family and I.
Since moving onto the 640G with CGM, I have travelled the world telling my story of resilience as a keynote speaker, spent a week in Perth with my family for my dad's 70th birthday, held down a full-time job at ABC News...and today I'm celebrating my two- month anniversary with my new girlfriend.
The 640G has given me the life I "hoped" might be possible, but never thought actually would be.
---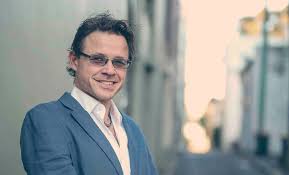 Barnaby
Living With Type 1 Diabetes
Diagnosed with Type 1 diabetes at the age of 14, Barnaby started on insulin pump therapy after experiencing poor control following a stroke and losing his wife to cancer. Barnaby now travels the world to share his story of resilience.
This patient testimonial relates to an account of an individual's response to treatment. The account is genuine, typical and documented. The views and opinions expressed are those of the patient or author and not representative of Medtronic or of any third parties referenced. The response other persons have to treatment could be different. Please consult with you healthcare professional for information on whether the treatment is appropriate for you.*The information provided in this blog is an individual account specific to the writers experience in the management of their own diabetes. Before considering any changes to your diabetes management you must consult with your healthcare professional.