Back to Uni with Diabetes
Thursday, February 28, 2019 - 13:10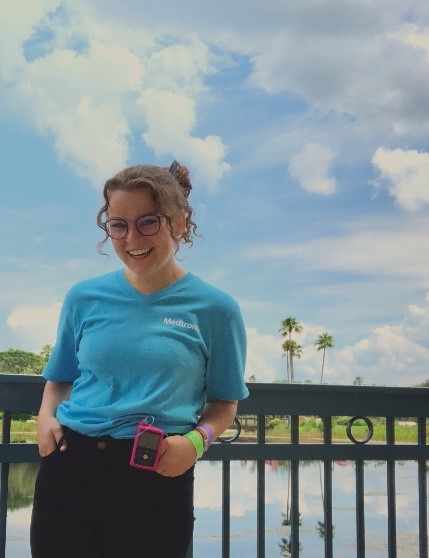 I like to think that I am officially an expert at the whole "uni kid" thing. I am a wizard at navigating back-to-school sales, I have collected enough jean jackets, turtlenecks, and oversized sweaters to warm an entire colony of hipster penguins, and I even play the acoustic guitar adequately enough that I can join an impromptu jam sesh and not "ruin the vibe". However, just as cool as my fashion sense and riffing abilities are the ways I manage to live responsibly and independently - like my habit of making my bed every morning, or my talent for staying in budget while grocery shopping and, most importantly, my determination when it comes to taking care of my type 1 diabetes.
I am about to go back to uni, and I already know that this semester is going to be more challenging than what I've experienced before. I will be taking advanced courses in biology and chemistry, heading two campus clubs, working as a tour guide and course tutor and doing neuroscience research with one of my professors. I'll also (hopefully) be sleeping and eating and getting some sun every once in a while. Most of my time and energy will be occupied by the busy life I've created for myself at school, so I can't exactly pencil in "2:00pm - 4:00pm: excessively worry about my blood sugars" into my overflowing planner.
However, much of the mental burden that used to accompany my T1D management has been alleviated since I began using the MiniMed 670G. I have never been more excited to start a new semester because I know that the little beeping machine hanging out on my hip will serve as a secret weapon as I tackle both my academic and personal goals this year. I am more confident in my diabetes management than I've ever been because I own a device that proves its power over and over again by consistently keeping my blood sugars in range, especially in situations where I have previously struggled.
STUDYING, AND STUDYING WELL
My BG's are notorious for spiking for seemingly minor anxieties, like seeing a spider in the bathroom or politely socialising with other human beings. So, naturally, when all of my professors decide to schedule their exams and 10-page papers in the same two-day period, I typically find myself in a spell of high blood sugars that don't budge below 13 mmol/L for days until my stress has completely dissipated. This was actually something that I used to plan for when studying. I would make a conscious effort to start preparing for exams at least two weeks in advance, not because I was a super-student, but because I knew that as I got closer to the test date, I would not be able to concentrate well because of the inevitability of my BG's trending high. (Trust me—if you thought that studying for an organic chemistry test was difficult without hectic blood sugars, try conceptualising complex reaction mechanisms with a BG of 20 mmol/L. It's tricky.) But now that I am on the MiniMed 670G, I no longer worry about my body's tendency for self-sabotage when I'm under pressure. The moment my blood sugars start spiking, my pump springs into action, increasing my basal rates on my behalf so that I don't have to think about—or even notice—that I'm going high. All I have to do is focus on the exact same thing my peers are—crushing it.
LIVING ALONE (AND GETTING ENOUGH SLEEP!)
Part of the quintessential uni experience is moving out of your childhood home and into a life with far less adult supervision. For T1D students, being away from family and friends and suddenly living in a strange land filled with many kids who don't know a pancreas from a potato can be extremely overwhelming. I definitely felt this way when I started school, so I was anxious about teaching my roommate about diabetes. I didn't want to overwhelm this girl who I had just met, with information about how to inject glucagon and when to call 000. I got lucky, as my roommate was endlessly understanding and quickly became one of my best friends who I knew could trust with anything—whether it be keeping secrets about boys or grabbing me a juice when I was going low.
This year will be different, though, because my roommate is leaving me for baguettes and berets to study abroad in France, so I will be living alone for the first time. Normally, this would make me nervous; even though I have been managing my health independently for many years, I have always had peace of mind knowing that someone was always around just in case I needed immediate help. In reality, however, I could not be more comfortable with the thought of having my own space because I have established so much trust in my MiniMed 670G, that I feel even more safe with this device than I ever have with just my roommate or my parents. Since I started the pump, I have had hardly any nighttime lows, which, in my opinion, are one of the scariest parts of living with T1D. I wake up every morning and look at my CGM graph, and usually see that I spent the whole night in range. This has also contributed massively to the quality of my sleep, which is important, because I'm already not getting a whole lot of shut eye as a uni student, so when I do manage to get some to rest, it has to be good. My sleep used to be interrupted multiple times a week by low BG alarms in the middle of the night, resulting in me angrily force-feeding myself gummy bears in bed until I could get my blood sugars to rise enough. But now, I just eat gummy bears in bed on my own volition. No lows necessary (or even present to begin with)!
BLAZING CONFIDENCE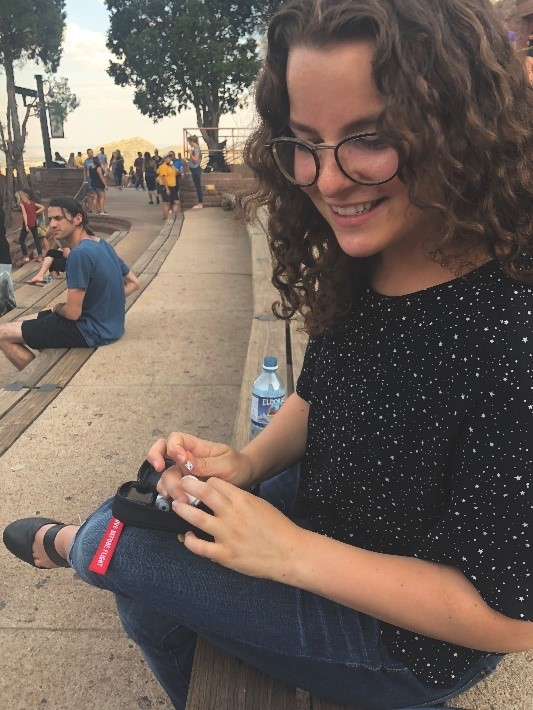 Going into the school year with a positive and productive mindset is absolutely essential to success. I have never been one to allow type 1 diabetes to dictate what I can and can't achieve, but I also am not ignorant of the fact that T1D has a rude tendency of making things just a little bit more difficult than they need to be. Give T1D a task, and T1D will say, "Okay, but what if instead of doing the task, we set the task ON FIRE and then tried doing the task? How about that?" I like to think that the MiniMed 670G is the smoke detector and the sprinkler system—it gets one whiff of T1D's arsonist shenanigans and stops the damage before it can start. This gives me a strong sense of confidence going into this semester that is unprecedented. What used to make me so self-conscious was the unknown element with my diabetes—the idea that I didn't have nearly as much control as I should or could. Even after fourteen years, I do not have this disease completely figured out just yet—I still have my off-days—but I am more sure now than I have ever been before that I possess the tools necessary to look at T1D in the face and tell it who the boss lady is. (Which is me. I am the boss lady.) I am more than capable of not only graduating but making an impact in the real world with what I've learned over the years. The more time I spend in range—not focused on my diabetes—the more time I have to watch my goals bloom into the realities I've always envisioned them to be. It's an incredible feeling, and it will certainly come to define my (and your) uni career.
This patient testimonial relates to an account of an individual's response to treatment. The account is genuine, typical and documented. The views and opinions expressed are those of the patient or author and not representative of Medtronic or of any third parties referenced. The response other persons have to treatment could be different. Please consult with your healthcare professional for information on whether the treatment is appropriate for you. The information provided in this blog is an individual account specific to the writer's experience in the management of their own diabetes. Before considering any changes to your diabetes management you must consult with your healthcare professional.